Welcome
So Many Things in Common
Credit unions are here to help people manage their money and live better, more comfortable lives. A lot of that starts with smart spending and saving, but a person's happiness goes far beyond finance.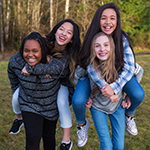 We want to take a moment this month to talk about culture, beliefs and tolerance. There's a lot going on in the world right now. With political fighting, wars and religious battles, people are quick to point out our differences with one another.
Yes, we are all different — and that's okay. If we were all the same, the world would be a very boring place. Tolerance doesn't mean that we always have to agree, but it means that we can try to get along. Sometimes that can be easy, and sometimes that can be difficult.
The goal is to try to focus more on the things that we have in common. At the end of the day, whatever country you're from, whatever culture you grew up with or whatever beliefs you hold, most of us want the same things in life: happiness, acceptance, fun, enjoyment, comfort…
So, when we get dragged down into blame and finger-pointing, let's take a moment to step back and think about our goals. We shouldn't ignore our differences, but we shouldn't get lost in them either. Sometimes we need to pause and remember how much we're all alike at the end of the day.